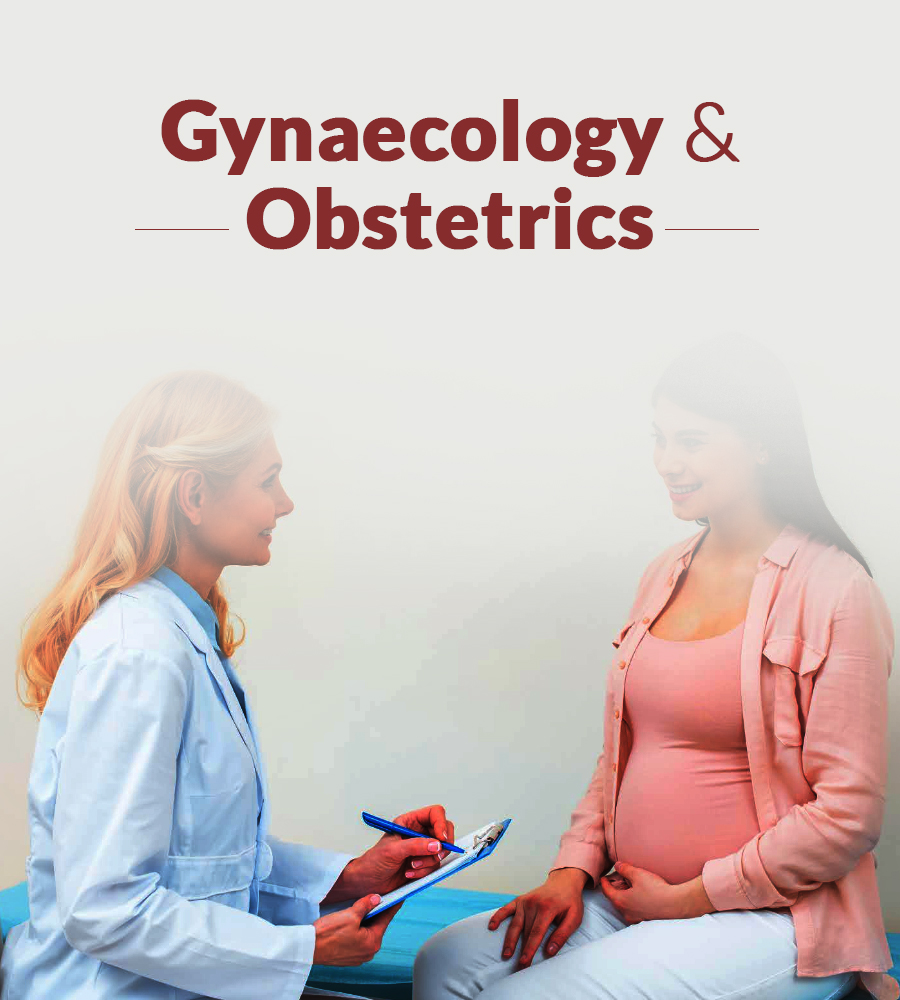 In addition to effectively handling associated disorders, the Department of Obstetrics and Gynaecology provides a wide variety of women's health programs for unborn and pregnant women. The Department also delivers state-of-the-art superlative health care technology that provides a wide variety of services such as painless delivery, minimally invasive surgical operations, radical surgical treatment for gynecological cancers, chemotherapy or radiation, high-risk pregnancy / latest pregnancy control, fertilizing care, among others. B.P Poddar delivers gynecological and obstetric specialty care and facilities for classes of advanced diseases. The health issues of women of all ages are thoroughly examined and dealt with with the utmost care. Including open myomectomy unsuitable for endoscopic (key topical) operation, the hospital offers extensive fibroid treatment. Both the woman patient and their children will be completely healthy and secure. Our team performs completely safe and well-tested operations. Amniocentesis, ultrasound, and chorionic villus sampling were the procedures carried out which help to diagnose several problems at an early stage. The department works on specialist guidance and quality treatment in problems relating to the control of infertilities, family well-being, management of menopause, prenatal diagnosis, reconstructive surgery, and pooling.
B.P Poddar Hospital's Department of Gynecology is a vast building with physicians, surgeons, support teams, new facilities, OPD – Patient Department with consultant's clinics, secure procedures, and medical checks. OT services are available in the medical sector. The gynecology department looks at female body-related organs such as the vagina, abdomen, ovary, and breast.
The department has advanced diagnostic services through medical appointments with gynecologists. Testing and treatments patients can safely be followed by the doctors of the B.P Poddar  Gynaecology  Clinic. The department is well prepared to handle routine and common events, as well as complex and accidents through the hospital process. The procedure and operations department is valuable in hospitals, specialists and members of the surgical staff are interested in cautious surgery in case of laparoscopic procedures as well as open surgery on an individual basis. The department has a high rate of progress and people in India, West Bengal, and Kolkata has a B.P Poddar Hospital confidence for outstanding services in the neighborhood. There is a friendly and simple scheme for visiting B.P Poddar Hospital for gynecology to patients in nearby countries.
The department is concerned with the control of women 's disease-signs, diagnosis, stage care, pronouncing, and follow-up-with a pregnant woman, her unborn child, and other diseases. Medicine and surgery are mixed.
The Department's Obstetric wing is well prepared for any dangerous pregnancies. Both inquiries and testing during breastfeeding are provided with the equipment.
The working area has its advanced equipment for tackling any potential crises and is easily connected to the operation theatre.
A neonatologist of the hospital is responsible for the best prenatal result in all forms of deliveries.
The Department carefully, compassionately, sophisticated, and dedicatedly supports every patient with the highest focus on patient safety.
In the Department of Gynecology, all types of gynecological installations like cancer should be managed and handled properly.
Also, the department executes GYN (Hysteroscopy, Laparoscopy) with video monitoring.
Highly trained and experienced professionals in this department contribute to patient well-being and declining morbidity.
Diagnosis & treatment of all cases of benign and malignant gynecological conditions is the focus of the department.
Treatment, love, and dedication are used to surgery from basic daycare to more sophisticated minimal invasive surgery.
P Poddar offers a wide range from pre-conception planning, pregnancy care, childbirth, and postpartum care to education and support services.
Our team of professional gynécologists, with the most modern scientific procedures, specialize in non-cancer and cancer (malignant) conditions.
A number of service packages B.P Poddar Gynecology Department
Hysterectomy Abdominal or Vaginal
Bilateral salpingo Oophorectomy
Congenital Reconstructive Surgery
Twisted Ovarian Tumor Surgery
Lap Ovarian Cystectomy
Bilateral Ovarian Cystectomy
NDVH
Multiple Myomectomy
Laparoscopic Myomectomy
VVF
LAVH
Total Lap Hysterectomy
Vaginal Hysterectomy with PFR
Wertheim's Operation